Union Power Minister Piyush Goyal is not a newbie when it comes to Modern-day technologies. He is ever present on Twitter and Facebook. He has done relentless work to provide power to distant corners thereby 'electrifying' the people of the nation.
Recently, NASA shared some pictures of planet Earth. Goyal took to Facebook to show how tirelessly he and his colleagues are working to make sure to execute PM Modi's ambitious 'Power for All' project. Here is a comparison photo between India in 2012 and India in 2016.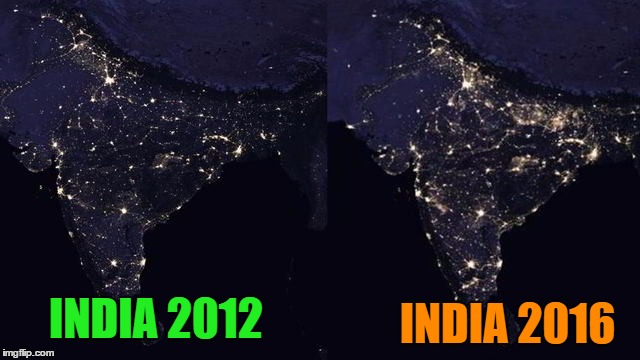 https://www.facebook.com/plugins/post.php?href=https%3A%2F%2Fwww.facebook.com%2FPiyushGoyalOfficial%2Fposts%2F724815994356216&width=500
Even a piece on CNN spoke about the vast growth in Indian cities. James Griffiths wrote in CNN: "New satellite imagery released Thursday by NASA shows the vast growth of Indian cities in recent years. Huge swaths of northern India, relatively dark in 2012 night shots, are lit up by huge new urban areas in imagery from 2016. According to the Oxford Economics Global City Forecast, of the 20 fastest-growing cities in the 2015-19 period, fourteen are in India."
Mr. Piyush Goyal is quite outspoken when it comes to habits that die hard a.k.a corruption. Recently he warned officials in UP and said anyone indulging in corruption will face dire consequences and asked people having trouble adjusting to new reforms to submit their resignation. This jibe was directed primarily towards the babus of Power department.